Because I'm a Seattlite, I figured that it would be only appropriate to pay homage to what this area is famous for...
Coffee.
The word is usually synonymous with a national chain that is famous for its froo-froo drinks and high prices. If you live in the shadow of the Space Needle, you probably rely on these guys to provide you with your daily dose of caffeine. You either love 'em, or you hate 'em. In Seattle, they're just a way of life.

Photo by chad_hicks on Flickr
If you're like me and work in an office, you get this coffee stuff from an airpot that looks a little something like this. Even though it's ground and made right here at work, it's still Starbucks coffee. What else? We work less than 3 blocks from the original Starbucks!
Photo by k8skoffee on Flickr
I would be remiss if I didn't mention the other coffee chain that calls Seattle home. You may not have heard of Tully's, but I guarantee it's good coffee! Considerably smaller than Starbucks, it has a homier feel when you walk in the door.

Photo by ktkihara on Flickr
Speaking of "homey", maybe you have a more quaint coffee shop that you frequent. I love walking into a mom and pop owned cafe and trying what they have to offer.

Photo by vtwincruzr on Flickr
When I lived in Illinios, I would look for these little coffee drive-thrus in parking lots but never found them! I guess they're unique to the Pacific Northwest, and they sure to come in handy when you're in a hurry and don't want to have to park and get out of the car for your latte!

Photo by janakd31 on Flickr
Of course there are many different types of coffee drinks you can buy.
My favorite is the caramel macchiato. Sweet, but not too sweet, I order this guy non-fat and decaf.
Photo by oceanwind87 on Flickr
Of course, there are too many variations to any given order to count, but among the most popular is...
The latte, which is prepared with about 1/3 espresso, 2/3 steamed milk, and a layer of foamed milk.
Photo by Janet2008_album
The mocha, which is prepared much like the latte but with chocolate added and no foam!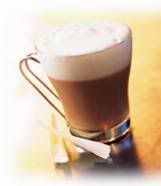 Photo by axiemeluv on Flickr
And last, but not least, the cappucino, which is much like the latte except it is prepared with hot, more textured milk and not nearly the amount of steamed milk.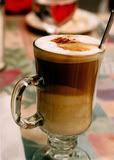 Photo by mom2zddh on Flickr
If you're lucky, you'll get one of these guys smiling back at you and waiting patiently for you to figure out what you want to drink but, more confusingly, how to order your drink. They're more than willing to help you figure it all out.
Photo by jazz_baby07 on Flickr
Some of the baristas get fancy and make crazy designs out of the foam on top of your latte or cappucino.

Photo by chongchong_85 on Flickr
On rare occasions in Seattle, it gets warm enough to warrant ordering one of these guys at your favorite coffee shop. However, if you live in Texas or anywhere down south, you might actually slurp one of these down any day of the year to cool off!
Photo by crushedandbrokenheart on Flickr


Some people just like their coffee plain and black.


Photo by medinantexas on Flickr


I'll only drink my coffee black if I have a nice, big chocolate donut to go with it!
Photo by kmadisonm on Flickr
So, next time you're in the Emerald City, stop by the original Starbucks and grab yourself a caffeinated (or decaf!) beverage. While you're at it, their Snickerdoodle cookies are wonderful, so grab one of those, too.

Photo by us17 on Flickr



Think there are too many Starbucks? You're not alone!